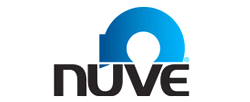 NUVE
A Strong Foundation
Established over 45 years ago in 1968, NÜVE is one of the fastest expanding manufacturers of laboratory and sterilization instrumentation in the world today with a steadily increasing product range.
Quickly becoming market leader in our home country, the major proportion of our production is today exported to over 105 countries worldwide and the brand is established as a driving force in the development of new products.
Quality & Reliability
Quality is a keyword for NÜVE. This is proven by its certification to ISO 9001:2008 and ISO 13485:2003. Combining this with a strong ethic of providing outstanding value, NÜVE incessantly strives to increase efficiency through evolution of its working practices and investment in the latest machine tools. Top class components and high grade raw materials ensure that the final product is something that the user can be proud of. An important factor in the high level of reliability is the commitment of the production team, half of which has been with the company for over 20 years.
Investment & Expansion
Substantial investment in R&D enables NÜVE to offer an ever-widening range of quality products. A team of highly qualified and experienced engineers has been producing instruments with unique characteristics bringing additional benefits to our customers. The offer in the field of biology in particular has significantly expanded and the level of technological innovation is proven by the large number of trade-marked features recently introduced in the range.
NÜVE has been growing continuously and strongly, even during the recent worldwide economic crisis. With its dedication to customer service, NÜVE is committed to ensuring the supply to its customers on time. During the last seven years, the size of the production plant was doubled as were the number of machine tools for production.
Wide Ranging Markets
NÜVE products are designed and developed for a broad spectrum of markets including clinical laboratories, medical research, biotechnology, agriculture, veterinary labs, food, beverage and dairy, chemicals, automotive, aerospace, ceramics, water and pharmaceutical industries.
Professional Support
As we innovate, we educate. Recognizing that education is key for the continuous growth of the company and its products, NÜVE is committed to providing relevant, leading-edge educational opportunities throughout the year for its distributors. Comprehensive distributor training in products and after-sales servicing by NÜVE experts ensures professional local support for customers and an excellent return on the investment in this innovative brand. Some recent instruments include the facility enabling NÜVE engineers to carry out analysis and even updates remotely from the NÜVE headquarters, keeping customer products on top performance.
For more details please visit
www.nuve.com.tr