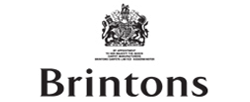 Brintons
Brintons not only make carpet for our homes, the commercial side of the business carpets the world! From palaces to hotels, restaurants to public buildings, convention centres to airports, over the years Brintons carpets have contributed to make the worlds' most beautiful interiors.
In the 1950's, Brintons invented the 80 percent wool, 20 percent nylon blend, which is now the global standard for Axminster around the world. The blend combines the comfort of wool with the strength and durability of nylon. Brintons has been at the forefront of the global woven carpet manufacturing industry for more than 200 years. Unlike most other carpet manufacturers, Brintons designs and develops all of its own looms, and to this day, each carpet is checked and finished by hand.
Always one step ahead of the game, spotting trends and forecasting future fashions ensures Brintons has grown and adapted to increasingly demanding consumer and corporate markets. Brintons is recognised as a powerful creative source stretching the way people think about pattern and colour on the floor. Their ability to combine thoughtful design with experience and technical knowledge allows them to deliver high performance floor coverings that will take your breath away. And, they have pushed the boundaries of technical development further than any other carpet manufacturer with their revolutionary 32 colour 'High Definition Weave' capability.
For more details please visit
www.brintons.net